Modular IR Measurement Systems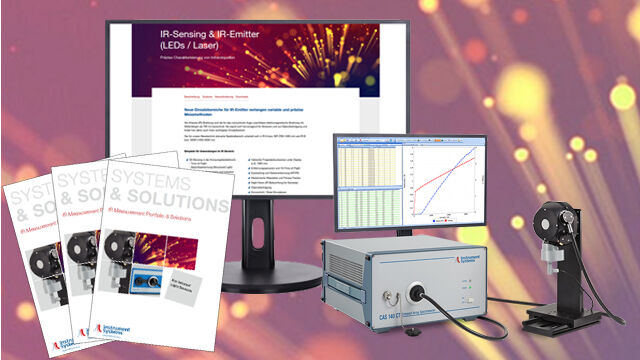 2021/07/02
Nowadays, infrared (IR) radiation is used in many areas, with data transmission and sensor technology at the forefront. Widely known applications include facial recognition and optical fingerprint sensors in smartphones, eye tracking and gesture recognition or in-cabin driver monitoring in the automotive industry. The IR laser sources and IR LEDs used call for specific measurement systems that meet the requirements of the various IR emitters.
Instrument Systems satisfies the demands of this rapidly growing market with its extensive portfolio of high precision IR measurement systems. Our modular IR test systems can be put together individually, according to the area of application and measurement tasks.
Our new website area "IR Sensing & Emitters (LEDs/Laser)" provides an overview of the current fields of application and our respective measurement solutions.
Detailed information about the specific measurement requirements of the diverse applications and our IR portfolio can be found in our new brochure.
Our latest press release is about Instrument Systems' modular test solution for the measurement of IR wavelengths at 1380 nm, which are increasingly used for optical fingerprint sensors and the related challenges.