Instrument Systems at ISAL 2019: Interior / Exterior Automotive Lighting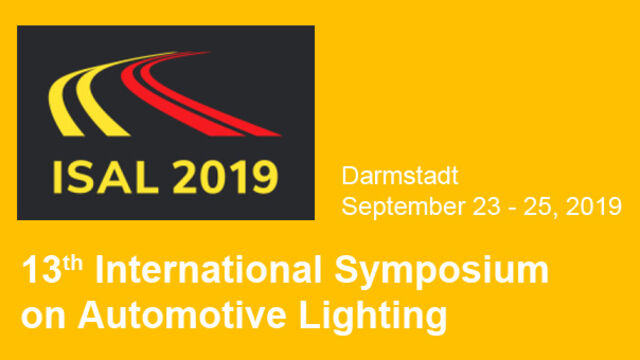 11.09.2019
Visit us from 23–25 September 2019 in Darmstadt at the "International Symposium on Automotive Lighting" (ISAL)! Find us at Stand 6 at the Science & Congress Center.

Interior automotive lighting: Preview of our new generations of cameras
The imaging photometer and colorimeter LumiCam from Instrument Systems is established worldwide in the automotive industry for luminance and color distribution measurements. The new generation of LumiCam B camera comes in a significantly more compact housing and measures up to 30% faster. New software features and motorized aperture settings facilitate the measurement setup.
The new LumiTop 4000 imaging colorimeter precisely and rapidly measures automotive interior displays according to the current German OEM requirements. With a total testing time of less than 15s per display, the spectrally optimized, high-resolution 2D camera is particularly suitable for use in the production line.

Exterior automotive lighting: Highly accurate measurement of external automotive lighting and traffic lights
The Berlin specialists from Instrument Systems will be delivering live presentations of the two AMS-goniophotometer systems of the Optronik line. By virtue of its dynamic drives, ruggedness and stability, the impressive AMS 3000 is particularly suited to fast measurement of large and heavy headlights and signal lamps.
The space-saving AMS 200 is ideal for the the characterization of small to medium-sized signal lamps and headlights.
Test also the new remote control GC 100 in action! It allows a particularly easy and fast manual movement of up to 5 motorized axes at our goniophotometers.
The AMS goniophotometers of the Optronik line are supplemented by the DSP 200. It is our newest photometer for fast "on-the-fly" measurements. Due to its detector cooling, it has excellent stability even at low signal levels. The small sensor surface of only 5.8 x 5.8 mm makes the first choice for measuring state-of-the-art, high-resolution samples from the exterior automotive lighting field such as ADB, matrix beam and HD headlights. As an option, it can also be used as a flash photometer for the measurement of warning lamps for emergency vehicles in accordance with ECE R65.
We look forward to your visit! Feel free to arrange an appointment with our sales consultants (sales@instrumentsystems.com).