See us at Photonics West and SIL, USA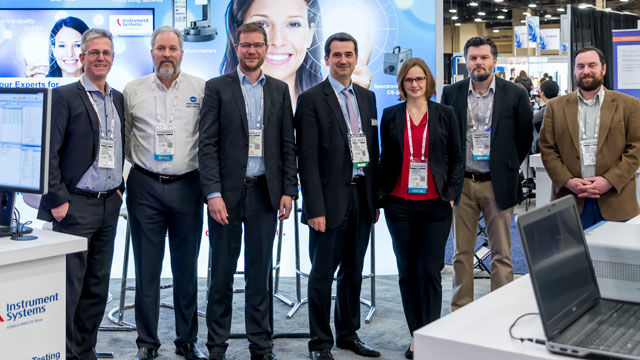 07.02.2019
Instrument Systems is on the road again: You can visit us at Photonics West and at Strategies in Light. Both trade fairs are due to be held in the USA in February.
Together with Konica Minolta Sensing Americas, our representative for the North American market, we will be showcasing various applications for laser and LED measurement technology, for example a laser/VCSEL test setup, equipped with the high-resolution CAS 140CT-HR and a 100mm integrating sphere.
Fast, high-resolution characterization of laser and VCSEL light sources
As a participant in the German Pavilion at Photonics West / USA, Instrument Systems will be exhibiting its top-of-the-range spectroradiometers. The globally recognized reference device CAS 140D forms the system basis and has now been joined by our special model, the high-resolution CAS 140CT-HR. Both devices can be seen in simulated applications at Stand 4545-38 from 5–7 February 2019.
The design of the CAS 140CT-HR is specially geared to the measurement of narrowband emission sources, e.g. laser diodes or VCSEL. Extremely high spectral resolution of up to 0.2 nm full width at half maximum and particularly short integration times as low as 9 ms make for fast tests in the laboratory and production. Discuss your special measurement task with our experts at the stand!
SIL / USA – 27 February 2019
At Strategies in Light in Las Vegas / USA from 27 February to 1 March 2019 Instrument Systems will be casting a spotlight on applications for high-precision spectroradiometers. Advanced lighting technology for the measurement of solid-state lighting sources will be demonstrated at several photometric and spectroradiometric measuring stations at Stand 10506. Among the highlights are the new LGS 650 goniometer and measurement systems for VCSEL/laser, UV LEDs and high-power LEDs. The portfolio will be complemented by the measuring instruments of our US sales partner Konica Minolta Sensing Americas.
Lecture information:
"How Safe is Your Lighting Environment? An Evaluation Guide for Blue Light Hazard"
Room: Oceanside C Session Number: T4 S2 P2
Thursday, 28 February 2019: 1:45 PM – 2:15 PM