LumiCam Display Measurement
Filter-based camera system for determining luminance and color

Imaging system for maximum flexibility at highest measurement accuracy
The broad variety of displays using a wide range of technologies requires 2D imaging systems that allow for a precise and spatially resolved measurement of luminance and color.
To this aim Instrument Systems offers the color filter-based camera system LumiCam. The different LumiCam models and extensive optical accessories make this camera a quick-change artist for diverse measuring tasks in the lab and quality control in small-scale production. The LumiCam from Instrument Systems has long since become an integral part of the display measurement setup, particularly in the automotive sector.
Key Features:
Precise, spatially resolved 2D-measurement of luminance and color
Motorized lens and aperture control
Flexible and user-friendly application
Extensive analysis software
Whether in the automotive sector, aviation or display industry – exacting requirements are placed on the optical check of test samples in the lab or small batch inspection:
Measurement accuracy
Operator friendliness
Comprehensive software analyses
Modification options for a measuring instrument perfectly tailored to the respective measurement task
The optical accessories of the LumiCam colorimeter and accompanying evaluation software were designed specifically for these demands. Our LumiCam system for display measurement features a high level of user comfort, reliable reproducibility and a broad spectrum of measuring and analytical options.
System configuration
A LumiCam system typically consist of the following components:
| Component | Description |
| --- | --- |
| Measuring camera | LumiCam 2400B filter-based imaging photometer and colorimeter in the Mono, Color (4 color filters) or Advanced (6 color filters) variants |
| Software | LumiCam software with optional Black Mura plug-in |
| Optical accessories | Motorized lenses with 20mm, 28mm, 50mm or 100mm focal length and OD2 or OD4 filter |
| LVK test setup | Accessory set consisting of optical bench, translucent shield, holder for the LumiCam, holder for test sample |
| BSDF test setup | Accessory set comprising optical bench, isotropic light source, holder for the LumiCam, holder for test sample |
| Positioning systems | DTS 400 and DTS 500 |
Measurement of luminous intensity distribution (LVK)
The LVK test setup (LVK = Leuchtstärkeverteilungskurve) from Instrument Systems permits a precise measurement of the full luminous intensity distribution of the test sample, spatial color homogeneity and correlated color temperature of small to medium-sized light sources up to an angle of 65° in only a few seconds.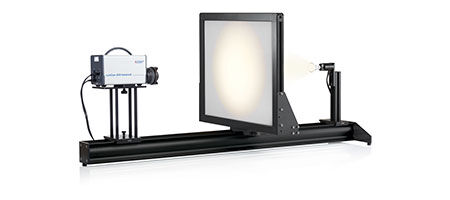 The accessory set consists of an optical bench, translucent shield, holder for the LumiCam and a holder for the test sample. With this equipment the LumiCam is ideally suitable for the quality analysis of small and medium-sized light sources, such as LEDs and LED modules.
BSDF measurement of displays
A precise analysis of the BSDF (bidirectional scattering distribution function) of displays is possible with the LumiCam. Our BSDF measurement system permits an instantaneous directional analysis of stray light originating from a flat sample instead of time-consuming goniometric scanning.
The BSDF setup consists of an optical bench, isotropic point light source, holder for the LumiCam and a sample holder. These components are systematically arranged to capture either the bidirectional reflectance distribution function (BRDF) or the bidirectional transmission distribution function (BTDF) of the sample.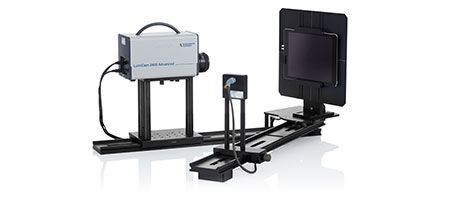 Among other things, our BSDF analysis kit enables fast evaluation of the images generated by the LumiCam for haze or glare. It is exceptionally well-suited to tests on displays, matt or reflecting display components and anti-glare coatings.
Individual configuration
Our experts will be pleased to provide competent advice on your special challenge! Together we will find the right solution – just ask us!