LpS Digital 2020 - Watch our conference presentation online!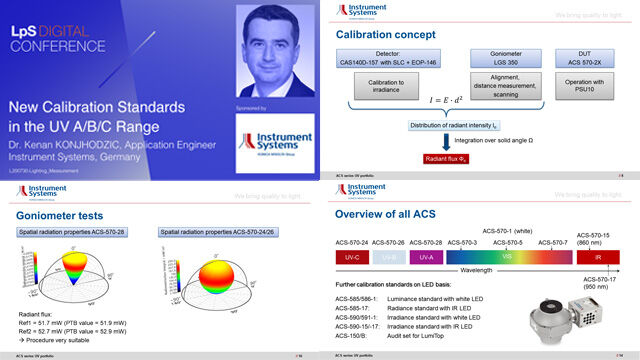 2020/09/14
Đenan Konjhodžić, product manager at Instrument Systems, presents the new calibration concept for UV-LED standards. The overall combination of multiple sources and control measurements with prior quality checks of measurement devices and stable light sources is necessary for multiple applications where standards are used. The characterization of the ACS UV standards as described here is a combination of multiple precise steps:
All measurements are traceable to national standards
The light source itself is manufactured with the highest demands on optical characteristics, mechanical tests, and thermal stability to ensure long-term duration of calibration
Spectral measurement setups (UV spectrometer, optical coupling unit, and UV fibers) are selected and characterized with the aim of minimizing fluorescence and stray light influences
The mechanical setup (goniometer) enables not only overall power characterization of the device under test but the coverangular characteristics as well
Double confirmation with separate calibrated light sources (both with equipment traceable to national standards) delivers maximum reliability and minimum uncertainty
The extremely low measurement uncertainties (k=2) of the UV-ACS are comparably low to those in the metrologically unproblematic visible range, thereby offering a reliable resource for radiant flux calibration in the UV-A, UV-B, and UV-C ranges.
Watch the video on the conference site