LGS 350
Compact, space-saving goniophotometer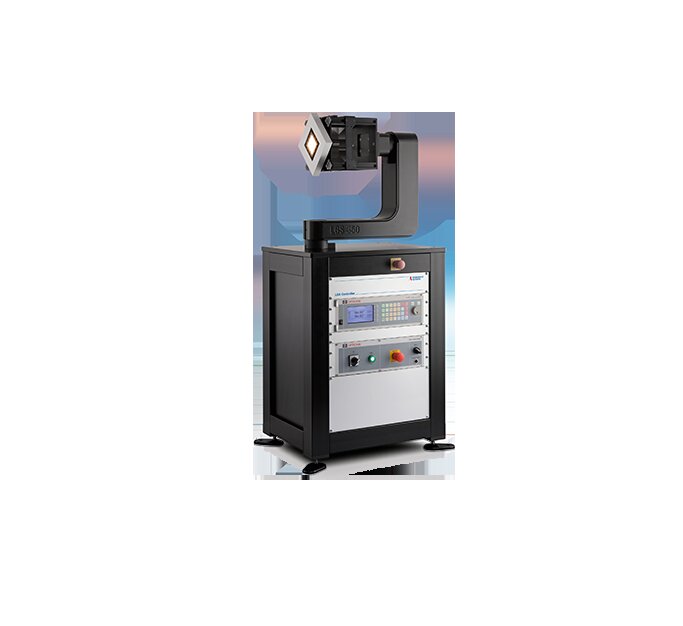 Spatial characterization of medium-sized SSL light sources and LEDs
The LGS 350 goniophotometer or goniospectroradiometer was developed by Instrument Systems for determining the angle-dependent spatial radiation properties of small to medium-sized SSL luminaires and LED modules. The light source is operated in a horizontal burning position and can be measured in an angle range of ±160° to the mechanical axis.
Together with an Instrument Systems spectroradiometer, all spectral parameters such as color coordinates, color temperature and even color rendering index are determined angle-dependent. Photometer DSP 200 can also be used for fast "on the fly" measurement of C-levels.
The instrument is suitable for samples with a diameter of up to 700 mm and a weight of 8 kg.
LGS 350 – Highlights:
Type C goniophotometer for test samples with a diameter of up to 700 mm and a weight of 8 kg
Precise determination of luminous intensity distribution and luminous flux
Angle-resolved examination of spectral and colorimetric quantities
Data export in IES and EULUMDAT format
Easy and intuitive control of the measurement process, as well as power supply and electric measurement of the sample
Configurable switch-on and stabilization routines for the light source in repetitive measuring tasks
Extensive and adaptable measurement logs and reporting functions
Versatile sample holder
Thanks to its universal sample holder, the LGS 350 is suitable for a wide range of measurement tasks on medium-sized LED modules and luminaires. In addition, it has a sample holder for LED-850/LED-870 TEC adapter and standard lamp base E27.
The following versions of the LGS 350 are available for various applications in the lightlab:
Goniometer with a sturdy base and integral LGS controller. It is compact and has a small footprint, offering extremely high mechanical stability.
Goniometer as a table version with a separate 19" rack for the LGS controller. This instrument version is mobile and flexible in use.
LGS 350 – Technical data
Specification

Description

Travel range C-axis
±160°, safeguarded by limit switches
Travel range γ-axis
±160°, safeguarded by limit switches
Resolution of the angle encoder
0.01°
Reproducibility of C-axis
≤ 0.1° (under max. sample load)
Reproducibility of γ-axis
≤ 0.05° (under max. sample load)
Dimensions (H x W x D); weight
1432 x 500 x 650 mm3; 95 kg
Max. sample size/weight
740 mm diameter / 8 kg
The detailed measurement conditions under which the specified values have been determined can be looked up in the data sheets and brochures or requested from Instrument Systems.
The LGS 350 consists of the goniophotometer with a plate for securing the sample and the LGS controller. In addition to the stepper motor control, the latter also serves as an angle display and, when using a photometer, as a display unit for readings in candela or lux.