Instrument Systems' evolution and adaptation in the lighting industry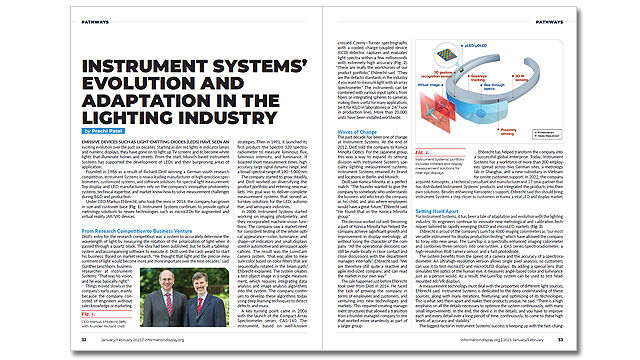 2023/01/30
Article by Prachi Patel

EMISSIVE DEVICES SUCH AS LIGHT-EMITTING DIODES (LEDs) have seen an exciting evolution over the past six decades. Starting as dim red lights in indicator lamps and numeric displays, they have gone on to light up TV screens and to become white lights that illuminate homes and streets. From the start, Munich-based Instrument Systems has supported the development of LEDs and their burgeoning areas of application.
Founded in 1986 as a result of Richard Distl winning a German youth research competition, Instrument Systems is now a leading manufacturer of high-precision spectrometers, customized systems, and software solutions for spectral light measurement. Top display and LED manufacturers rely on the company's innovative photometry systems, technical expertise, and market know-how to solve measurement challenges during R&D and production.
Under CEO Markus Ehbrecht, who took the reins in 2014, the company has grown in size and customer base. Instrument Systems continues to provide optical metrology solutions to newer technologies such as microLEDs for augmented and virtual reality (AR/VR) devices.