LumiTop 4000 / 2700
Imaging photometer and colorimeter for display production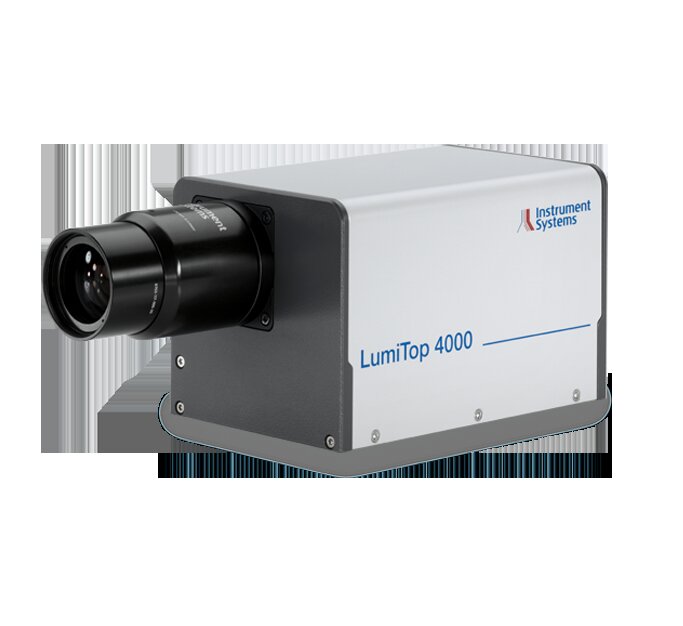 LumiTop 4000 / 2700 – Innovative design combines imaging and spectral measurement technology
The LumiTop 4000 and LumiTop 2700 imaging colorimeters from Instrument Systems are used together with a CAS spectroradiometer for measuring the luminance and color uniformity of displays in the production line. They also include a photodiode, thus combining the advantages of three different types of measuring instrument:
Unrivalled accuracy in spectral spot measurement
Analysis options of imaging colorimetry
Temporal resolution of a photodiode.
The patented optical design permits simultaneous measurement of all three sensors in one shot. The accurate spectral measurement is used as a live reference and transferred to the complete display area of the camera. This makes for extremely short measurement times and all relevant optical tests are conducted in a single test station.
The LumiTop is available in two basic versions:
LumiTop 4000 with 12 MP RGB sensor (CMOS)
LumiTop 2700 with 6 MP RGB sensor (CCD)
The LumiTop 4000 as an advancement of the LumiTop 2700 can detect and analyze even smaller defects and inhomogeneities, and in combination with the 100 mm lens it permits single pixel analyses (limited field of view). Thanks to a HW trigger it is also suitable for applications with timed measurement processes (e.g. optical tests of µLED wafers). The high-luminance mode extends the dynamic range, particularly with modulated displays and light sources (such as OLED displays).
For highly specific test scenarios in AR/VR headsets, Instrument Systems offers the LumiTop AR/VR version of the LumiTop 4000, an imaging colorimeter that is optimally configured for near-eye display testing. The LumiTop's AR/VR lens optically mimics the human eye and measures color and luminance as the user would see it. A wide camera field of view, various pupil sizes and a variable focusing distance facilitate the implementation of various test applications. The unique periscope design of the LumiTop guarantees easy access to the near-eye display and provides an optimum measuring position, even under cramped conditions inside an already mounted headset. A hardware trigger can synchronize the measurement with two LumiTops, enabling simultaneous two-eye measurements.
LumiTop 2700 / 4000 – Product details
Worldwide established measuring instrument for display quality control in production facilities (in combination with the CAS series of spectrometers)
Model variants with 6 or 12 megapixels
High measurement speed with high measurement accuracy
Extensive LumiSuite software (GUI and SDK)
Complete evaluation of luminance and color uniformity, Mura, pixel defects, contrast, gamma curves, white point, flicker and luminance modulations and spectral analysis in the center spot
Periscope design for optimum near-eye display testing
LumiTop – The perfect solution for optical production tests
LumiTop systems were specially developed for display measurement in production facilities. From displays for smart watches to TVs, back light units or µLED wafers, the measurement solutions featuring our LumiTop cameras deliver fast and precise results for quality control.
LumiTop Family – Technical data
Model variants

LumiTop 2700

LumiTop 4000

Resolution (RGB)

6 MP

12 MP

Choice of lens

29 mm standard / 11 mm wide-angle

29 mm standard / 100 mm (macro)

Trigger

no

yes

High luminance mode (for modulated light sources)

no

yes

The detailed measurement conditions under which the specified values have been determined can be looked up in the data sheets and brochures or requested from Instrument Systems.
Experience our LumiTop portfolio interactively in our video!