LumiTop AR/VR Display Testing
Periscope design for synchronized 2-eyes headset measurements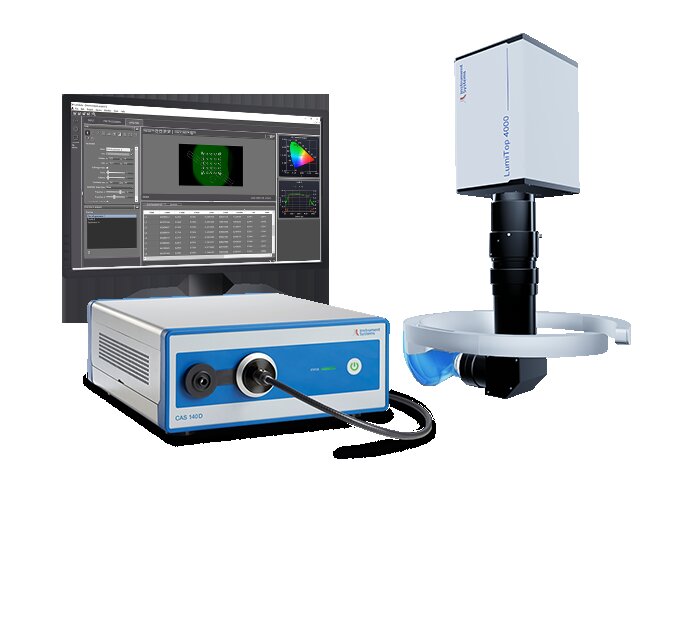 Fast and accurate production testing for perfect user experience
The LumiTop AR/VR system is specifically designed for production testing of near-eye displays (NEDs) in AR/VR headsets. The AR/VR lens emulates the human eye and measures color and luminance exactly as seen by the user. The unique periscope design of this LumiTop system gives easy access to the near-eye display and provides an optimal measurement position even under spatial constraints within a fully assembled headset. A hardware trigger can synchronize the measurement with two LumiTops for simultaneous two-eye measurements. A wide field of view, various pupil sizes and an adjustable focusing distance facilitate the implementation of a wide range of test applications.
The LumiTop AR/VR system is also based on the proven LumiTop principle: while an RGB camera captures the image of the headset in one shot, a reference spectroradiometer measures the spectrum of the image to provide highly accurate absolute luminance and color values. Since the measurement results are fully traceable to national standards, time-consuming golden sample calibration is unnecessary. The simultaneous measurement of 2D images, spectrum and flicker values makes the LumiTop with periscope lens one of the fastest, all-round high-precision system solutions for diverse AR/VR tasks.
Instrument Systems also offers test systems for the IR light sources of a headset often used for gesture and object recognition.
Key Features:
LumiTop precision and speed
Field of view (FoV): > 120°
Adjustable focus: 0.3 m – ∞
Various pupil sizes
Synchronized 2-eye measurement
Challenge: true colors and high luminosity
The LumiTop system with AR/VR delivers highly reproducible, traceable and accurate color and luminance measurements to provide the best possible user experience for augmented and virtual reality:
Fast, high-resolution camera for fast cycle times
Optimized lens design for natural emulation of the human eye
Fast photometer and hardware trigger for synchronized 2-eye measurements and modulated light sources
Spectral live reference measurement guarantees optimum accuracy
Individual configuration
Our system experts will be pleased to provide competent advice on your particular application. Our worldwide Service guarantees fast setup and optimum support over the entire lifetime of the system.