DMS 201
Manual goniometer for display measurement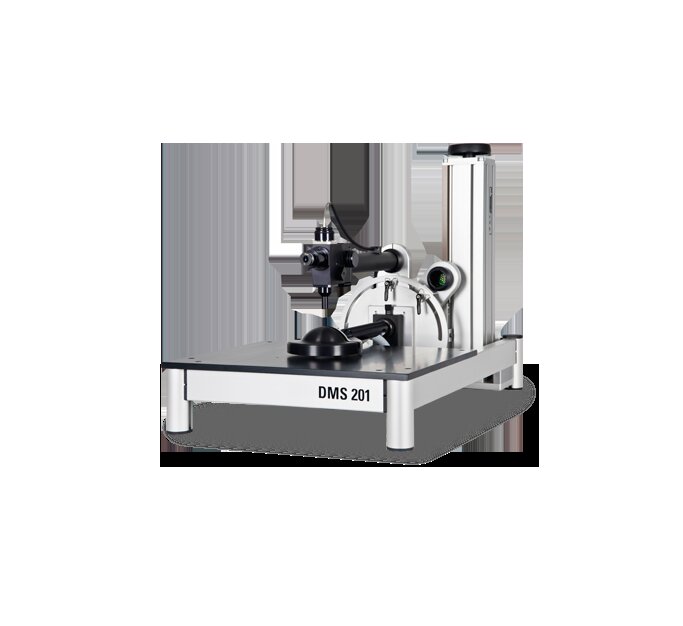 Low-cost solution, simple and easily extended
The DMS 201 is a low-cost goniometer with 2 or 3 manual axes for analysis of the electro-optical properties of displays. The measuring system incorporates a manual positioning device and is used for determining luminance, contrast and color behavior subject to variable electrical control and different viewing angles.
Additionally, measurements with reflective and transmissive test illumination are possible. The DMS 201 is suitable for all applications in which automatic angle scans are not required.
DMS 201 – Product details:
Characterization of emissive, transmissive, reflective and transflective displays
Manual 2-axis goniometer (optional 3-axes) with PC and software
Evaluation of all photometric and colorimetric properties as a function of electrical control, temperature, time and viewing direction
Optionally available components: photometer or spectroradiometer, electric control, lighting unit, temperature control chamber
Table version (standard) or stand version (optional)
Combined light meters: microscope, photometer, spectrometer
Temperature control chamber
Light sources and lighting units
Unit for sample control
Scan surface extension
Software package DMS Control (controller) and ViPer (preparation and evaluation of readings)
DMS 201 – Technical data
Parameter

Properties of DMS 201

θ inclination angle

0° to 90°

Reflective Illumination angle

0° to 90°

Min. step Theta / Phi / Refl. Illumn.

0,01°

Z translation

300 mm

Maximum diagonal

600 mm / 23"

Max. thickness

300 mm

The detailed measurement conditions under which the specified values have been determined can be looked up in the data sheets and brochures or requested from Instrument Systems.