LEDGON Goniometer System
Lightproof LED test system – complete and compact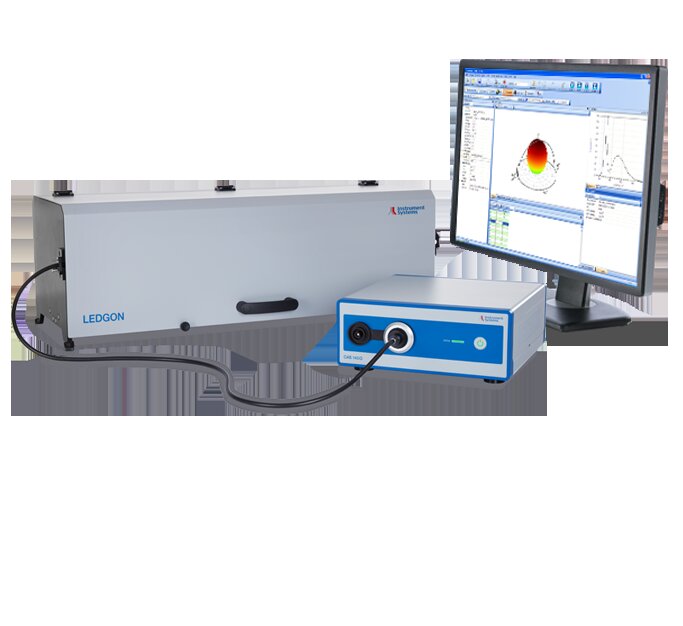 Complete setup for professional measurement of single LEDs and small LED modules
Whether in the visible range or for applications in UV and IR, the LED has established itself everywhere as a light and radiation source. Qualification of this narrow-band semiconductor lighting in development and quality assurance calls for fastidious spectroradiometric observation. This is only possible with the aid of complex measurement technology.
With the LEDGON system Instrument Systems has developed a measuring system that is easy to use and ideal for fully automatic determination of all the relevant photometric parameters of single LEDs or small LED modules. Besides the visible range, its usage extends from 200 nm in UV to 2150 nm in IR.
The system comprises a lightproof LEDGON 100 goniometer and a spectroradiometer of the CAS series, together with an optional electrical sample control. The compact setup in a lightproof housing permits operation outside the darkroom typically required for a light lab.
Key Features:
Motorized 2-axis goniometer in a lightproof housing
High angle precision and reproducibility with an angle resolution of up to 0.1° for the entire anterior half-space of light emission
Maximum accuracy and stability as well as metrological traceability from UV to IR due to high-end spectroradiometers of the CAS series
Display and further analysis of readings by comprehensive spectral software
Requirements
An extensive set of parameters is required for complete characterization of LED-based sources. These include:
Spectral intensity distribution
Radiation power
Color attributes
Spatial distribution of emissions (radiance distribution)
Energetic efficiency of radiation generation
The measurement technology used must meet the highest accuracy requirements with a reliable degree of stability. LEDGON systems from Instrument Systems satisfy these requirements in every respect. They are thus used for the qualification of LED sources in many light labs over a wide range of industries.
System configuration
Component
Description

Spectrometer

Spectrometer from the Instrument Systems CAS 140 or CAS 120 series.

Einkoppeloptik

Variable positioning on the optical bench of a goniometer, throughput- or cosine-optimized optical probes with flexible fiber connection to the spectrometer.

Goniometer

LEDGON 100, incl. motor control of the dual axis goniometer unit.

Software

SpecWin Pro lab software for automatic control of the goniometer according to user specifications; with extensive analytical tools for complete characterization of LED sources.

Calibration

Calibration of spectral irradiance with automated conversion to luminous intensity resp. luminous flux for LEDGON measuring geometry. Traceable to national standards as PTB or NIST.

Sample holder
(optional)

Mounting of the test sample on the goniometer head by means of a simple clamping chuck or a module holder on an adjusting table.

LED test socket
(optional)

LED test sockets for the electric supply and reproducible positioning of single LEDs.
Individual configuration
Our system experts will be pleased to provide competent advice on your particular application. Our worldwide Service guarantees fast setup and optimum support over the entire lifetime of the system.