NVIS Display Measurement
Measurements in accordance with MIL-L-STD-3009 and civil standards SAE AS5452B / RTCA DO 275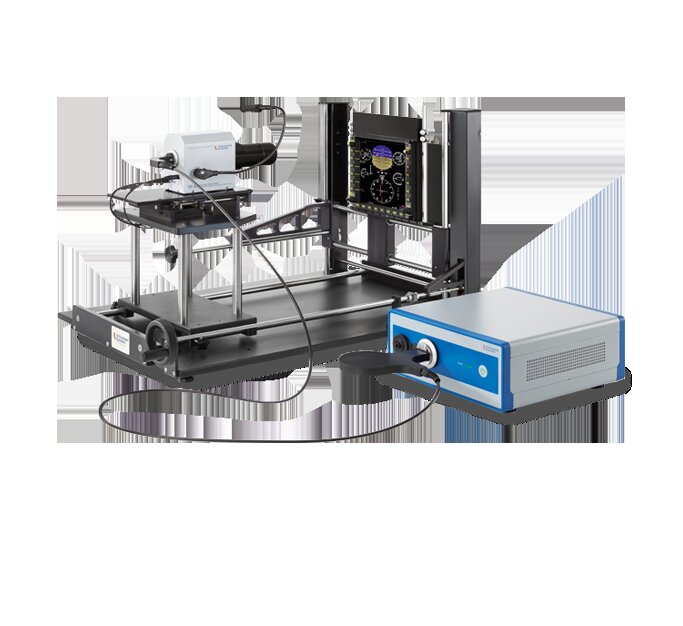 Evaluation of the compatibility of displays, luminaires and backlit switches with night-vision devices
Based on our globally successful CAS 140D array spectrometer, the DTS 140D NVIS display test system was developed by Instrument Systems for the evaluation of the compatibility of displays and panels when using a night-vision device.
The system is able to perform measurements in accordance with MIL-L-STD-3009 and also in accordance with civil standards SAE AS 5452B "Night Vision Goggles compatible lighting for civil aircraft" and RTCA DO-275. This ensures, that a light source does not blind the operator utilizing night vision goggles. Conducting essential night operations with the help of approved night vision goggles is getting more and more important in civil avionics and marine applications (e.g. for police, medivacs and special air cargo).
Thanks to the robust array spectrometer technology the DTS 140D NVIS is particularly suitable for applications in production and quality assurance that require long-term dependability and simple operation. Automated measurements are enabled with the pass/fail test functions of the SpecWin Pro software. An easy integration in the customer`s software framework is possible with the Windows-DLL.
Key Features:
System certified to MIL-L-85762A / MIL-STD-3009; also for MIL-P-7788F and civil standards SAE ARP5825A, SAE AS5452B and RTCA DO-275
Special filters result in an extremely high optical dynamic range required for this application
Optimized Pritchard optics guarantee perfect automatic positioning and documentation of the measurement spot
Integral alignment camera with a wide field of view and output in the report
SpecWin Pro software for convenient pass/fail analysis and documentation of readings
Windows-DLL and LabView driver for customer control
Requirements for night-vision devices
Accurate recognition of the marked differences in intensity between the visible spectral range from 380 to approx. 600 nm and the near infrared range up to approx. 1000 nm (sensitivity range of the NVG night-vision device) is critical for NVIS measurements. For this reason, Instrument Systems modified the CAS 140 series to further reduce the stray light in the spectrometer and automatically adjust measurement sensitivity to the different intensities. The DTS 140 NVIS is supplied with a certificate to verify that it has passed the so-called MIL test in accordance with MIL-L-85762A / MIL-STD-3009.
System configuration
An all-in-one system DTS140D NVIS for radiance and luminance measurements typically consists of the following components:
| Component | Description |
| --- | --- |
| Spectroradiometer | CAS 140D153U3I (VIS-NIR) for the spectral range from 380–1040 nm. |
| Telescopic optical probe and lens | TOP 200 telescopic optical probe with motorized aperture wheel for 4 measurement spot sizes, integral alignment camera with a 752 x 480 pixel resolution and HRL90 lens. Further focal length options available. |
| Calibration | Calibration of spectral radiance and luminance, traceable to national standards as PTB or NIST. Including MIL certificate. |
| Software | SpecWin Pro lab software with a wide range of functions and special NVIS evaluation module. |
| Stray light matrix (optional, not necessary for MIL test) | Best-possible stray light properties with the use of spectrometer-specific numerical stray light correction. |
| Optical probe for irradiance (optional) | For measurements in accordance with SAE ARP5825A (Exterior lighting NVIS friendly) |
| Positioner (optional) | Manual or fully automatic positioner / goniometer, e.g. DTS 500 |
Wide range of accessories available
Due to the wide range of optional accessories, this highly flexible system solution from Instrument Systems is ideal for use in the development process, quality control and production of displays.
Individual configuration
Our system experts will be pleased to provide competent advice on your particular application. Our global Service guarantees fast set-up and full support over the entire lifetime of the system. Together we will find the right solution – just ask us!