Retroreflectometer System RMS
Universal system for retroreflector measurement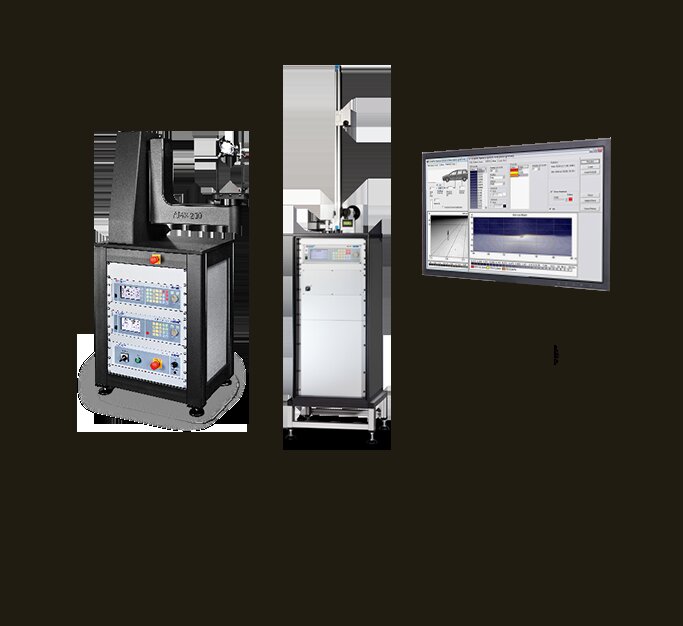 Precise measurement of retroreflection with high color temperature stability of the color temperature
Safety in automotive exterior lighting is guaranteed by a wide range of standards and approval requirements. High-precision photometric measuring instruments in combination with flexible goniometers of CIE Type A are required for testing retroreflection.
Based on the RMS 1200 Retroreflectometer of the Optronik product line, Instrument Systems offers high-quality all-in-one systems for the measurement of retroreflection of the following test objects:
Automotive retroreflectors, that must be measured in accordance with standards ECE R3, R27 or SAE J594
Retroreflecting samples such as marker boards, reflectors in road construction (DIN 67529) or protective clothing for night visibility in accordance with standard ISO 20471
Ideally suited to critical product approval tests
Our RMS all-in-one systems for measuring the retroreflection offer a high level of photometer sensitivity, autocalibration function, uniform illumination and unique color temperature control of the light source to standard illuminant A. In the product approval process, many technological leaders in automotive manufacturing worldwide thus place their trust in the precise and stable measurement results of the RMS systems from Instrument Systems.
The fully automatic measurement is controlled by LightCon software, with which all required test reports can be prepared. Separate software is available for special applications such as ISO 20471.
Key Features:
Precise color temperature control for highest accuracy to standard illuminant A (2856 K)
Selection of a high-performance goniometer for virtually all types of retroreflectors
Traversing detector with automatic dark current compensation and autocalibration device
Tilt mechanism for correct focus on the sample when the detector is in motion
Flexible, easy-to-use LightCon software
Short burn-in time
Stringent requirements placed on retroreflector measuring technology
The principle requirements placed on measurement of retroreflectors are set forth in CIE Publication No. 54.2-2001. Furthermore, technical standards and recommendations such as GTB Photometry Accuracy Guidelines or SAE J1330 set a high yardstick for performance parameters of a suitable measurement technology for automotive retroreflectors:
Even very small retroreflection values must be reliably measured.
Color temperature must be kept stable in the measuring process with standard illuminant A (2856 K).
Illumination of the sample in lx must be as uniform as possible and should not deviate by more than 5 %.
Instrument Systems satisfies all these requirements with its RMS systems for the reliable, high-precision measurement of retroreflection.
System configuration
A RMS 1200 all-in-one system for determining photometric and colorimetric properties of automotive reflectors consist of:
| Component | Description |
| --- | --- |
| RMS 1200 Retroreflectometer | Combined photometer for angle-dependent determination of the retroflection value in acc. with ECE R3, R27 and SAE J594 in mcd/lx with a high-stability color temperature controlled projector light source and traversing detector (0.2 to 1.5°; optionally 0.1 to 2°). |
| AMS 200 Goniometer | Compact dual-axis goniometer for medium-sized lamps, modules and retroreflectors with travel range. |
| AMS 3000 / 5000 Goniometer | High-performance goniometer for large and heavy samples. Can be extended to form a goniometer with 3 rotation levels. |
| EPS-10 | ε-traversing unit for measuring retroreflectors used in traffic applications, with a resolution of 0.01°. |
| ISO 20471 Goniometer | Single-axis goniometer with 0.01° resolution (0-360°) for angle-dependent determination of the specific retroflection value R' of protective clothing and warning vests pursuant to ISO 20471. |
| LightCon Software | LightCon lab software for controlling all components and instruments of a light lab. Rule database in acc. with UN-ECE, SAE and FVMSS108. Graphic output of light distribution as isolux or isocandela diagrams. Export function for comparison with simulation programs. |
| ISO 20471 Software | For the control of an RMS 1200 and single-axis goniometer for measuring protective clothing pursuant to ISO 20471. |
| CM 10 Tristimulus colorimeter (optional) | Precise tristimulus colorimeter with 4 silicon photodiodes that are precisely adjusted to the standard spectral value functions (f1'≤1.5% in the Y-channel). 14 mm small light entry area for good spatial resolution, e.g. for measuring the color of retroreflectors (optionally with separate projector unit as a standalone measuring station). |
Individual configuration
Our system experts will be pleased to provide competent advice on your particular application. Our global service guarantees fast set-up and full support over the entire lifetime of the system. Together we will find the right solution – just ask us!