AMS 3000
Compact CIE Type A goniophotometer for large lamps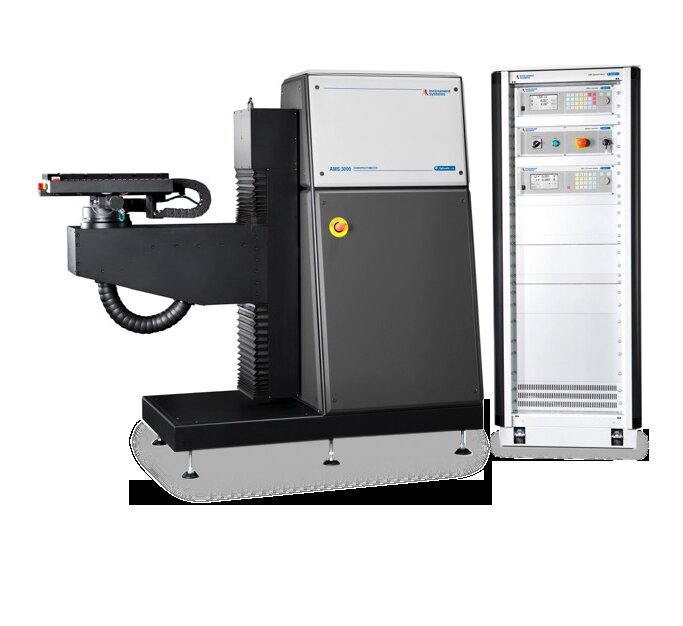 Exacting light measurement of automotive lamps up to 40 kg
The compact goniophotometer AMS 3000 of the Optronik Line from Instrument Systems is characterized by highly dynamic, fast drives and robust and stable design. It is suitable for the standard-compliant measurement of vehicle headlamps and signal lamps for traffic technology and airfield lighting up to 40 kg.
Like all Type A far field goniophotometers of the Optronik line, it delivers accurate and reliable readings for all photometric, spectroradiometric and colorimetric quantities. Together with the ultrafast DSP 200 photometer it is also used for the measurement of pulse-width modulated light sources with very short duty cycles. With LightCon software the measurement data is made available for photometric test reports and further processing in simulation and raytracing programs.
Extensive accessories and further measuring instruments, e.g. the CAS series of spectroradiometers supplement the AMS 3000 to form a perfectly synchronized complete system for a wide variety of measuring requirements (AMS goniometer system).
AMS 3000 – Product details:
Type A goniophotometer with H/V coordinate system for automotive headlights and luminaires up to 1180 mm
Precise determination of all photometric, spectroradiometric and colorimetric quantities
20 kg nominal or 40 kg max. sample weight
Three motorized linear axes for sample alignment and automatic movement to of preprogrammed positions
High rotation speed of up to 50°/s
Easy alignment by hand-held remote control
9-channel lamp multiplexer with data output for the integration of ADB, matrix beam and AFS functions
Product approval tests and development-related measurements
Precision, standard-compliance and efficiency are of paramount importance in automotive exterior applications. The principal use of the AMS 3000 is for type testing and homologation of vehicle headlights and signal lamps in accordance with current standards such as ECE, SAE, FMVSS108.
With a broad range of accessories and extensive LightCon software the AMS 3000 is also ideally suited to development-related measurements in the light channel.
AMS 3000 – Technical data
The AMS 3000 has a horizontal sample stage for securing and connecting the sample. The control unit is located in a separate 19" instrument cabinet. The machine can be safeguarded by laser scanner, light barrier or pressure-sensitive safety mats.
Specification

Description

Travel range of H-axis

±200°, safeguarded by limit switches

Travel range of V-axis

±100°, safeguarded by limit switches

Resolution of angle encoder

0.01°

Reproducibility of H-axis

≤0.03° (under nominal load), typ. ≤0.02°

Reproducibility of V-axis

≤0.03° (under nominal load), typ. ≤0.02°

Dimensions (H x L x W); weight

1695 x 1898 x 800 mm3; 770 kg

The detailed measurement conditions under which the specified values have been determined can be looked up in the data sheets and brochures or requested from Instrument Systems.