AMS Goniometer System
Complete equipment of a light lab for exterior automotive lighting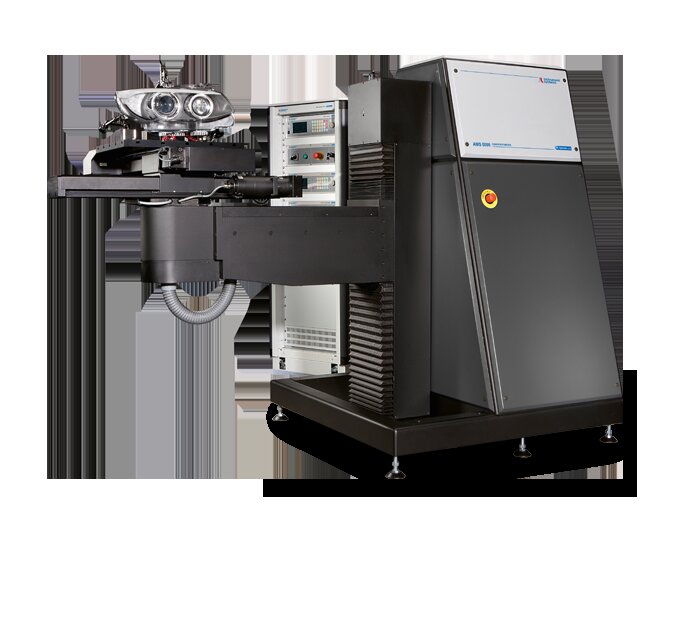 Exact sample positioning and fast, high-resolution measurement
Automotive lighting is essential for safety and comfort on the road. For the purposes of approval, national and international standards prescribe highly accurate measurement under precisely defined conditions. With its Optronik line, Instrument Systems has developed a tailor-made portfolio of high-quality measuring instruments and systems that have proven themselves over the years in the light channels of international automotive manufacturers.
Based on high-performance AMS goniophotometers Instrument Systems offers high-quality, all-in-one systems for fast, positionally accurate measurement of the spatial radiation properties of external vehicle lighting. Through modular combination of further measuring instruments, the respective system geared to the individual test object and its measurement requirements. Our portfolio includes:
Photometers for a range of measurement distances
Retroreflectometers
Spectroradiometers
Tristimulus colorimeters and luminance meters (e.g. for license plate illumination)
Best choice for product approval tests
In their product approval process, many technological leaders in automotive manufacturing worldwide have placed their trust in the accurate and stable measurements produced by this system – particularly for new types of headlight such as pulse-width modulated light sources.
The fully automatic measurements are controlled by the LightCon software, by which all the necessary test reports are prepared.
Key Features:
Highest positioning accuracy
High spatial resolution for new functions such as high definition headlamps, pixel headlamps or other ADB variants
High measurement speed and efficiency
Conform to the latest standard DIN 5032-7 (2017)
Pulse-width modulated measurements (PWM concept)
Machine reliability, speed, precision
Due to the safety relevance of the objects to be measured in exterior lighting, strict requirements are imposed on the tests performed on the systems:
Goniophotometer systems must be extremely robust, durable and reliable, permitting a large number of tests in long-term operation.
The tests must be performed with a consistently high level of precision with a high measurement speed.
New lighting technologies, e.g. pulse-width modulated light sources or high definition headlamps, also require a conclusive pulse-width modulation concept and a high spatial resolution of the measurement.
System configuration
An AMS all-in-one system for determining the photometric and colorimetric properties of automotive lamps and headlights consist of:
| Component | Description |
| --- | --- |
| AMS 5000 goniometer | AMS 5000-110 high-performance goniometer for positionally accurate travel of vehicle lighting. Travel range of +/- 200° in the horizontal and +/-100° in the vertical plane with a speed of up to 50°/s. |
| DSP 200 photometer | Ultrafast photometer of lab Class L in compliance with DIN 5032-7 (2017). Highest spatial resolution thanks to a 5.8 mm x 5.8 mm detector. Best spectral adaptation. Equipped with Peltier cooling. |
| Software LightCon | LightCon lab software for the control of all components and instruments of a light lab. Rule database acc. to UN-ECE, SAE and FVMSS108. Graphic output of light distribution as isolux or isocandela diagrams. Export function for comparison with simulation programs. |
| SNT 10 power supply | For stable power supply to test samples for constant current or voltage operation. Measurement and stabilization function via sensor lines to the sample stage. Available in various versions, also suitable for LED applications. |
| RMS 1200 retroreflectometer (optional) | For the angle-dependent determination of the retroreflection value in accordance with ECE R3, R27 and SAE J594 in mcd/lx with highly stable color temperature-controlled projector light source and traversing detector (0.2 to 1.5°; optionally 0.1 to 2°). |
| CAS 140D spectroradiometer (optional) | High-end array spectroradiometer for highly precise determination of color coordinates also of narrow-band automotive lamps with LED, OLED. Reference measuring instrument in the LED industry. |
| LM 20 luminance meter | For measuring the luminance of vehicle registration plate illumination acc. to ECE R4 with LED alignment device and direct measurement display in cd/m2 on the AMS controller of the goniometer. |
| CM 10 tristimulus colorimeter | Precise tristimulus colorimeter with 4 silicon photodiodes that are precisely adjusted to the standard spectral value functions (f1'≤1.5% in the Y-channel). 14 mm small light entry area for good spatial resolution, e.g. for measuring the color fringe on the cut-off line of the low beam. |
Individual configuration
The modular AMS systems of the Optronik line are individually configurable for a range of applications. These include development-related measurements, COP applications or statutory approval tests, airfield lighting, variable message signs and retroreflector measurements.
Our system experts will be pleased to provide competent advice on your particular application. Our global service guarantees fast set-up and full support over the entire lifetime of the system.
Video: Spectral Measurement of Automotive Lighting with CAS140D Spectroradiometer & AMS Goniometer!
Video: AMS 5000 Goniophotometer