LightCon
Powerful software for conformity assessment of headlights and retroreflectors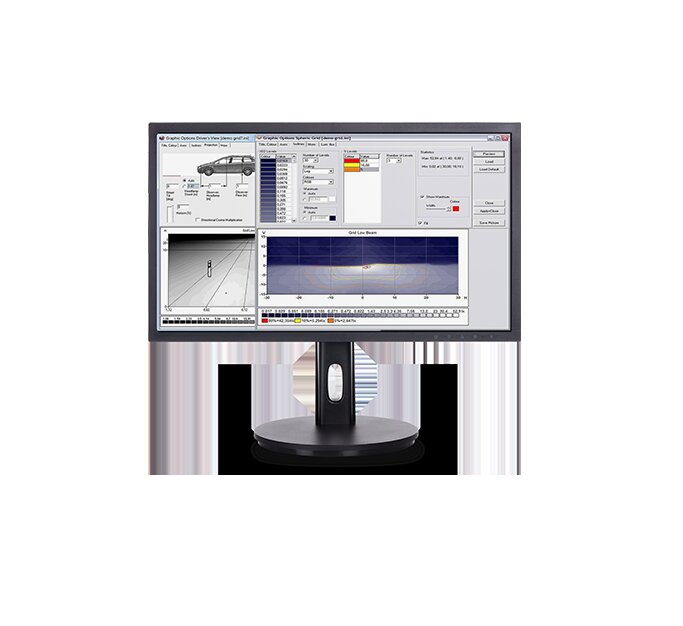 Complete regulation database and comprehensive graphic visualization in the form of isocandela diagrams
LightCon laboratory software evaluates measurements with the systems of the Optronik line on external automotive lighting, variable message signs, retroreflectors and airfield lighting. It offers simple user guidance, high flexibility and fast orientation due to a clearly structured setup.
Use of LightCon guarantees the highly efficient implementation of complex measurement tasks in product development, quality control or type testing / homologation. Complete goniophotometric measurement sequences are performed automatically; test reports, regulations, objects and projects are created and managed in a regulation database.
The user-friendly environment offers integration capabilities for a wide range of Instrument Systems hardware, e.g.
AMS goniometer (AMS 200, 3000 and 5000)
DSP photometer (DSP 10, DSP 200)
RMS 1200 retroreflectometer
CM 10 tristimulus colorimeter
LM 20 luminance meter for measurement of license plate illumination
CAS 140D array spectroradiometer (partial integration)
Positioning systems
Power sources
The software can be operated under Windows 10 (64bit).
Comprehensive measurement analyses in the light lab
LightCon is an easy-to-operate, efficient tool for:
Conformity assessment of automotive lamps pursuant to the legal requirements of UN-ECE, SAE, FMVSS108
Development-related measurement of automotive lighting
Approval testing of airfield lighting (flash light sources and constant light in accordance with ICAO and FAA)
Measurement of variable message signs and other samples from the traffic / transportation sector
Key product details
Analysis options
Measurements of luminance, luminous intensity, color coordinates, retroreflection
Control and analysis of goniometer measurements
Simple editing of complex measurement sequences
Optional setting of own limit values and percentages for the evaluation of DUTs
Control of burn-in / Recording of burn-in behavior of the DUT
Recording of measured values in real time
Measurement in flashing mode (ECE R6)
Calculation and display of the gradient of the cut-off line
Documentation of results
Photometric test reports with good / fail analysis in accordance with the selected measuring specification
Export of results and results tables as IES, KRS, CSV, MS Office
Graphic display as an isocandela diagram (ball grid, measurement screen projection, driver perspective, bird's-eye view, 3-D representation
Superimposition of different measurements (pair of headlamps or several light distributions, e.g. AFS functions)
Optional modules for further applications
Measurement of warning lamps conforming to ECE R65 and SAE standards
Measurement of airfield lighting in conformance with ICAO and FFA
Support for PWM generator for LED applications
Support for provided source meter
Measurement of variable message signs pursuant to EN 12368 and EN 12352
Measurement of retroreflectors pursuant to EN 12899 and other standards for lane-marking retroreflectors
Measurement of illuminated roadside markers and signals for railroad crossings