AMS Screen Imaging System
2D spatially resolved measurement of headlights with projection screen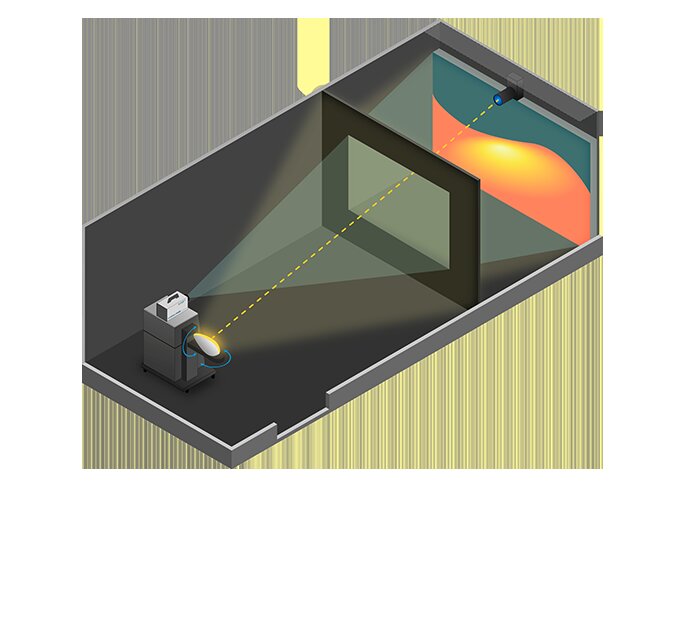 Fast determination of the light distribution of HD, ADB or matrix headlights
Adaptive headlights that are optimally adjusted to the driving and traffic situation, with glare avoidance, will enhance road safety.

New headlight systems integrate projections of lines and symbols onto the road. Modern high-definition, ADB or matrix/pixel headlights meanwhile realize countless light distributions. In the development process, traditional measurement with the far-field goniometer may be too time-consuming to adequately determine all conceivable lighting scenarios.

Our solution is a combination of the latest generation of the LumiCam 4000B imaging colorimeter with an established AMS far-field goniophotometer and screen. The special calibration light source ACS 630 is for photometric and geometric calibration and setup. This setup permits the measurement of diverse lighting scenarios of modern headlight systems in a fraction of the time needed for traditional measurement. The camera can be easily retrofitted in existing AMS systems and integrated into the software.

The complete AMS screen imaging system comprises:
Imaging photometer LumiCam 4000B (12 MP) or LumiCam 2400B (5 MP)
Projection screen, coated with special nearly Lambertian scattering paint
AMS 3000 / 5000 goniophotometer
DSP 200 photometer
ACS 630 light source for photometric and geometric calibration
LightCon software for control, evaluation and graphic visualization
SNT 10 source meter

Increased efficiency for development-related measurements
Our AMS screen imaging system combines the advantages of fast image-based measurement of light distributions and classical, precise measurement with the goniophotometer.

It is particularly suitable for use in the development of new headlights, in order to quickly cover and document a wide range of functions.

The fully automatic goniometric measurement of light distribution by image stitching is controlled by the established LightCon software. All test reports and graphics for product approval can thus be prepared.
Key Features:
Extremely fast determination of light distribution on the projection screen thanks to the LumiCam 4000B imaging photometer
Simple integration into existing AMS systems and LightCon control software
Goniometric measurement of the complete light distribution by image stitching
Conformity analysis to relevant standards such as ECE / SAE / ICAO / FAA via LightCon database
Visualization, e.g. in isocandela diagrams
New light functions call for innovative measuring procedures
Due to the safety relevance of test objects in the automotive exterior lighting system, strict requirements exist for product tests:
Goniophotometer systems must be extremely robust and durable, reliably ensuring a consistently high number of tests.
Tests must be conducted with a consistently high measurement accuracy at a high measurement speed.
State-of-the-art lighting technologies, e.g. pulse-width modulated light sources or high-definition headlamps, also require a convincing pulse width modulation concept and high local resolution of the measurement.
System configuration
An AMS all-in-one system for determining the photometric and colorimetric properties of automotive lamps and headlights consist of:
| Component | Description |
| --- | --- |
| AMS 3000 / 5000 goniometer | AMS 3000 / 5000 high-performance goniometer for the positionally accurate procedure of automotive lamps. Travel range from +/- 200° in the horizontal and +/-100° in the vertical direction with speeds of up to 50°/s. |
| LumiCam 4000B / LumiCam 2400B | Latest generation of the proven LumiCam series of spatially resolving 2D photometers with a 12 or 5 megapixel resolution and further increased measurement speed. |
| ACS-630 | ACS-630 light source for the geometric and photometric calibration of the overall system consisting of a diffuse light source for the screen and a laser. |
| DSP 200 photometer | Ultra-fast photometer of lab class L acc. to the current DIN 5032-7 (2017). Highest local resolution thanks to 5.8 mm x 5.8 mm detector. Best spectral adaptation. Equipped with Peltier cooling. |
| SNT 10 System power supply | Stable specimen supply for constant current or constant voltage operation. Measurement and stabilization function via sensor lines to the sample stage. Available in different versions, also suitable for LED applications. |
| Software LightCon | LightCon lab software for controlling all components of a light laboratory. Rule database to UN-ECE, SAE and FVMSS108. Graphical output of light distributions as isolux or isocandela diagrams. Export function for alignment with simulation programs. |
Customer advice on implementation
The Instrument Systems team of experts will advise you on the
preparation of the light channel,
choice of a suitable projection screen coating,
minimization of the influence of stray light by baffles,
setup of the measurement system in the customer's lab,
training of users.
Our global service guarantees fast setup and optimum support over the complete service life of the system.

Existing AMS systems are easily retrofitted; the proven LightCon software guarantees confident handling by users without major training costs.