IR Measurement
Fast and precise measurement of IR emitters as LEDs/ laser up to 2150 nm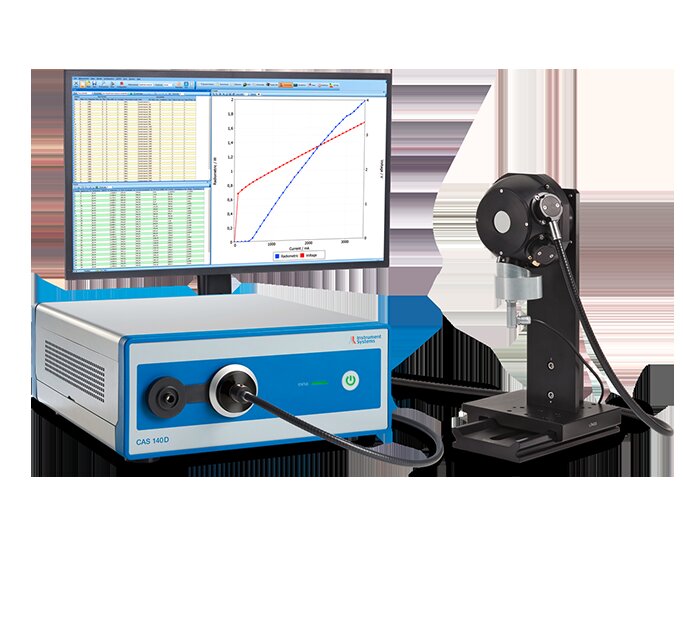 Modular test system with high measurement accuracy
The test systems for IR emitters from Instrument Systems are of modular design and individually tailored to the customer's measurement tasks. This applies equally to the laboratory and automated production tests. Our application experts configure the system for all possible IR emitters, for measuring both narrowband sources such as laser diodes/VCSELs, LEDs and other broader-band emitters.
Our system solution consists of the following components:
Calibrated radiometric measuring equipment
Optional power sources and temperature control for the DUT
Required software modules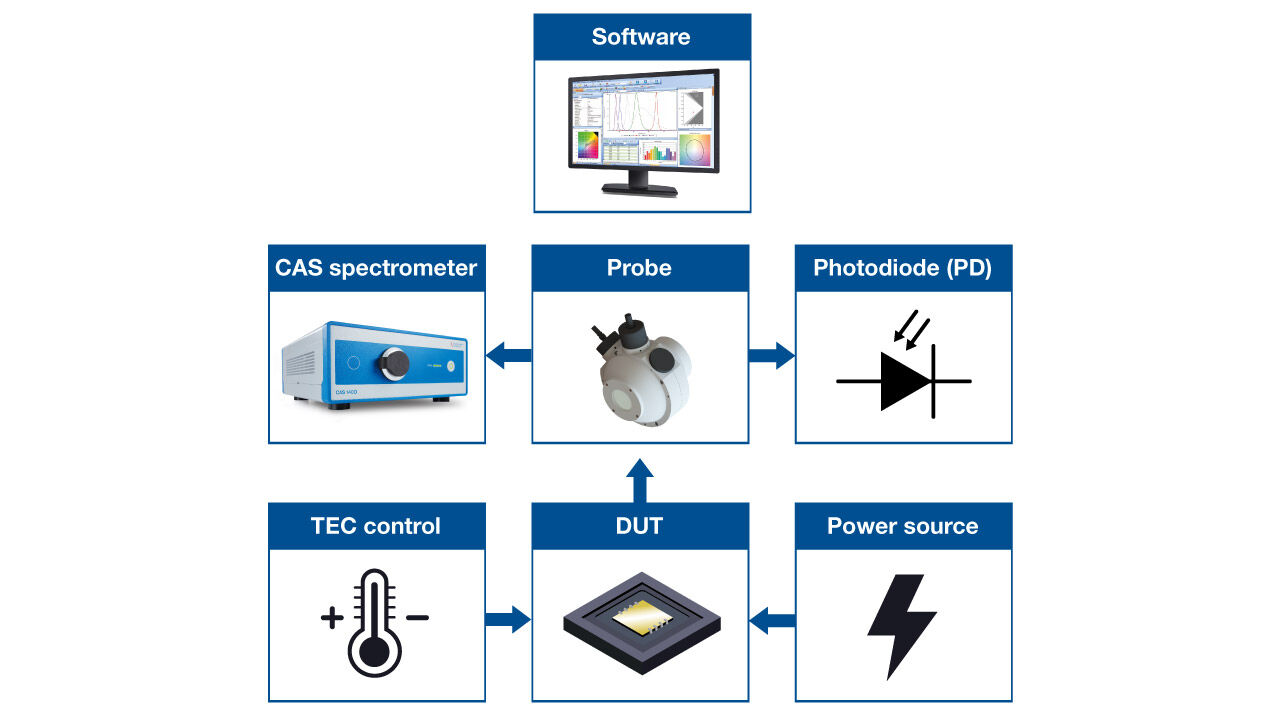 Key Features:
High modularity and measurement accuracy
Broad spectral range (200–2150 nm)
High spectral resolution (up to 0.09 nm)
Calibration traceable to a national lab (PTB or NIST)
Integration of temperature control and power sources for DUT
Pulse generator and pulse measurement (down to µs pulses)
Requirements
Accurate measurement of narrow-band emitters such as laser diodes/ VCSELs calls for spectrometers with a high spectral resolution. For this purpose, we offer the CAS-HR series that covers the NIR range and enables a spectral resolution of up to 0.09 nm. With pulsed IR emitters the speed of the measurement through the use of a fast photodiode is also critical. In contrast, a spectrometer with a wide spectral range is needed for the measurement of broader-band IR emitters.
For the characterization of IR emitters, the optical output must be measured with different electric currents and temperatures. Our IR measuring system thus offers the possibility of controlling various different power sources and temperature.
System configuration
A complete system for the characterization of IR emitters typically consists of the following components:
Component
Description

Spectroradiometer

CAS series (200-1100 nm) or
CAS IR series (780-2150 nm) or
CAS-HR series (800-1000 nm)
On request: CAS IR series: Several high-resolution options, for example 1310 nm-1440 nm; optical resolution <1 nm

Photometer (optional)

Power measurement with calibrated photodiode (800-1000 nm)
On request: Power measurement with calibrated photodiode (800-1650 nm)
Time-resolved measurement of pulses (>1 µs)

Measurement adapter / Accessories

ISP series integrating spheres
EOP series irradiance probes
LEDxx luminous intensity adapter
TOP series radiance probes
LEDGON and LGS series goniometer

Calibration

Calibration traceable to national standards such as PTB or NIST.

Software

SpecWin Pro/Light lab software modules
Spectrometer SDK (CAS-DLL) for integration in a production test

Power source (optional)

Keithley 24xx/26xx SourceMeter
Vektrex SpikeSafe SMU
Current constant or pulsed (>1µs)

Temperature control (optional)

Arroyo TEC source/mounts
Temperature range: 15-150 °C

Reference LED / Audit source (optional)

ACS-570-15/-17 (860 nm and 960 nm)
On request: IR ACS (1200 nm, 1300 nm, 1450 nm)
Individual configuration
Due to the diversity of products and optional accessories, this highly flexible system solution from Instrument Systems is ideal for the comprehensive measurement of IR emitters during the development process or in quality control.
Our system experts will be pleased to provide competent advice on your special application! Together we will find the right solution – just ask us!